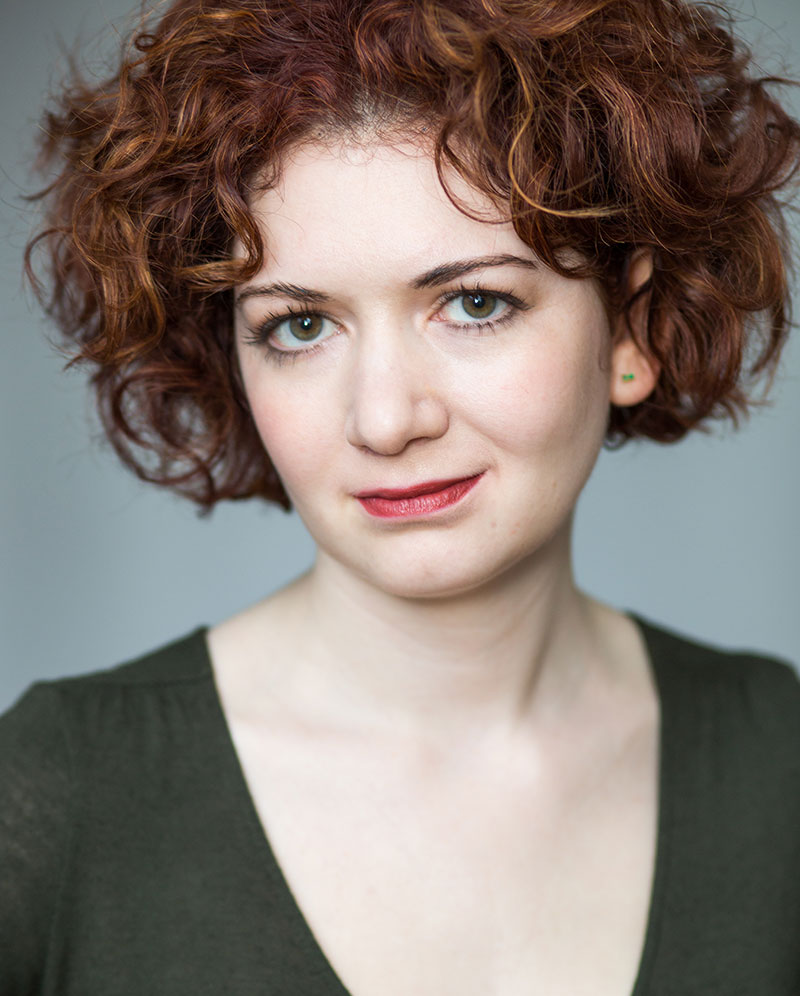 ---

I am a rare unicorn: a born and bred Manhattanite! I began acting at 9-years-old and have been doing so ever since. I'm also fluent in French and translate between English and French. I've studied here in New York, at Pomona College in Claremont, CA and internationally at the Ecole Jacques Lecoq in Paris and the Royal Academy of Dramatic Arts in London.
I play characters who stand out, chasing after fame, fortune or infamy. I do a mix of modern and classical theater, film, TV, and voiceover. Thanks for stopping by!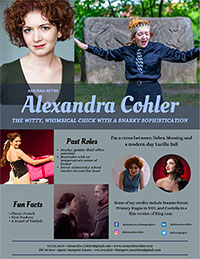 "Alex is a joy to work with — always on, and always ready to get to the work."
—-Robert A. K. Gonyo, director & Artistic Director of Co-Op Theatre East

I just wrapped shooting a new web series, B-Sides! I play a student trying to diffuse a racially charged fight. Will give you more details as I know them!
"Talented, fearless and well prepared, Alexandra Cohler did a great job when she worked for me on New York Blood."
–Nick Oddo, Director, Fearless Films
---

| SAG-AFTRA/AEA | | |
| --- | --- | --- |
| HAIR: Red | | HEIGHT: 5'6" |
| EYES: Hazel | | WEIGHT: 115 lbs. |
FILM
KING LEAR
Cordelia/LEAD
VAN GOGH PRODUCTIONS
Dir. Alexander Barnett
VAMP BIKERS*
SUPPORTING
DIAMOND MINDS FILMS/ Dir. Eric Rivas
LET'S KILL GRANDPA
DAYPLAYER
LKG PRODUCTIONS/Dir. Dir. Brian Gianci
DICKIE K.
Supporting
Alright Now! Productions/Matthew Koffler
LOST IN CONEY ISLAND
DAYPLAYER
DIAMOND MINDS FILMS/ Dir. Eric Rivas
*Tillie Award, Coney Island Film Festival
| TELEVISION/WEB (selected) | | |
| --- | --- | --- |
| SESAME STREET | GUEST STAR | PBS |
| THE SO DAMN FUNNY SHOW | GUEST STAR | WEB SERIES/Dir. Addison Lemay |
| HISTORGRAMS | GUEST STAR | WEB SERIES/Dir. Christina Hurtado & Emma Canelese |
THEATRE (selected)
2 (by Romulus Linney)
Goering's Daughter
PRIMARY STAGES/
Dir. Thomas Bullard
VENUS IN FUR
Vanda
EASTHAMPTON GUILD HALL/Dir. Tina Andrews
BASEMENT*
Katrine
GENE FRANKEL THEATER/ Dir. Janet Bentley
Hamlet (in Elsinore, Denmark)
Osric, Player Queen
Oxford Shakespeare Company/Ron Song Destro
YOUTH INK! (Reading)
Various
McCARTER THEATER/ Dir. Emily Mann

FAMILY SHAKESPEARE
Dorcas
MTWORKS/Dir. Antonio Miñino
ST. GEORGE AND THE DRAGON
Queen Katherine
HB Playwrights Foundation/Billy Carden
*Nominated, New York Innovative Theatre Awards, Outstanding Lead Actress
TRAINING
BA, cum laude, Pomona College, Claremont, CA, Theater and French,
Graduate 1-year program, Ecole Jacques Lecoq, Paris, France
RADA Summer Shakespeare Program, London, England
New York Stage and Film Apprentice Program, Poughkeepsie, NY
William Esper Summer Program, NYC
SKILLS
Fluent French; DIALECTS: French, British RP, Cockney, Southern US, NYC, Irish; Horseback Riding; Swimming; Jewish folk dancing; Intermediate piano; Advanced Recorder; Singing (Legit Mezzo-Soprano); Reads Sheet Music; Embroidery; Cooking; Maskwork; Clowning; Wiggle Ears; NY Driver's license; US Passport
"Alexandra gives a strong and consistent performance. She has a good natural style, her characters can range from stern and serene to playfully coy, and she handles herself well with more traditional/classical material. She is very dependable, takes direction well, and commits 100% to the project."
"Alexandra Cohler possesses the emotional maturity of an actress far beyond her years. She injects a great deal of life into a character, going beyond the page and to fully play her adjectives and connect with an audience, in a way that always feels authentic and natural. As a playwright, I was pleased with the way she made her own dramatic choices, while staying true to the script, and as a producer, I wouldn't hesitate working with Alexandra again."
---
---

---
"Responsible, beautiful and bright Alexandra Cohler is an actress to work with and watch. A true chameleon, she can successfully portray the Bard's leading players as well as the contemporary heroines of the stage. A "yes" performer who understands how important process, connection and risk is to the craft."
–Antonio Miñino, Fab Marquee Productions

---

---
To send a message, please fill out the form below and press "Send".
---
"Alexandra appeared as the heroine in my full length "Laramie, Equal Rights" and showed remarkable skill both as an actor and as a force that holds the play together. As an actor, she understood, expressed, and communicated to the audience the nuance of uncertainty, sometimes desperation, boldness, passion, and the other emotions her character lives through. She was also able to remember, not only her own lines, but the lines of the other characters and bring them back to script when they wandered. She's an amazing member of a cast."
–Leonard D. Goodisman, Playwright
---
---

---
I grew up in New York City surrounded by theater. Early on, I saw the original Broadway production of Into the Woods and watched, spellbound, as my childhood heroine of Cinderella took life right before my eyes.
It came as no surprise when I announced to my parents that I was going to be an actress. I was quickly enrolled in classes at HB Studio. I was delighted to go each Saturday morning to the basement studio and improvise for two hours, pretending I was any number of people. Soon, I made my Off-Off-Broadway debut in St. George and the Dragon at Christmastide at the HB Playwrights Foundation, playing a gnome. A few months later, I was working off-Broadway, playing Herman Goering's daughter in Romulus Linney's 2: Goering at Nuremberg.
After graduating from Pomona College and studying internationally, at the École Internationale Jacques Lecoq in Paris and the Royal Academy of Dramatic Arts in London, I'm back in New York City.
Already working regularly in the New York theater scene, I'm excited to work regionally and then head to the Great White Way, stopping along the way to pursue some film and TV work, all the time playing women obsessed with fame and fortune – either escaping or pursuing it. This includes rags to riches, riches to rags and everything in between. My dream roles include The Little Dog Laughed's Ellen, Gone with the Wind's Scarlett O'Hara, Maggie the Cat, Antigone, Juliet and, of course, my beloved Cinderella.
Thanks for joining me on this journey!